Submitted by Bob Bhatnagar on
Tweaks like NCSettings and Auxo are great because they provide quick access to a variety of toggles on the iPhone. One of these is the flashlight toggle, which easily turns on and off the LED flash on the back of the device. Thing is, with both of these methods you're still fumbling around in the dark preforming several steps to get to the flash toggle before you can even turn it on.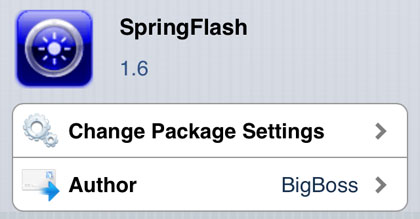 With the free tweak SpringFlash, you can assign any Activator action to the flash, making your iPhone a flashlight on demand. Once installed, SpringFlash defaults to using a double-press of the sleep/wake button as a flashlight on/off switch.
SpringFlash has no settings to configure. To change the action that turns on the flash, you can navigate to Settings -> Activator and choose SpringFlash under the selected action. For example, the flash can be set to turn on with a double-press of the home button from the lock screen. How about a three-finger pinch from anywhere else? These options and more make it quick and easy to use the iPhone as a flashlight even if you're already in the dark.
Check here for instructions on how to jailbreak iOS 6.x with evasi0n. You can also find out how to purchase and install Cydia tweaks with this guide.