Submitted by Bob Bhatnagar on
Wouldn't it be great if your iPhone knew when you didn't want to be disturbed automatically? Now the jailbreak tweak MyVibe offers several options to control Do Not Disturb (DND) settings and vibration based on the device's position in space. The feature Upside Down Silencer automatically puts the iPhone in DND mode any time the device is placed face down on a flat surface.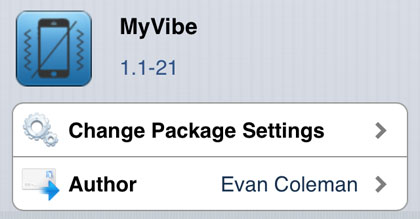 This means silencing your iPhone temporarily is as simple as placing it down in the right position. There are other features of the tweak available from the Settings -> MyVibe menu. Table Vibrate is similar to the upside down silencer, however in this case the tweak will only stop vibration when the iPhone is horizontal.
The device can be placed either face down or back down, and it will automatically turn off vibration for alerts, messages and calls. The whole point is to prevent that loud, disturbing vibration sound that happens when the iPhone is on a hard surface, like a table. For people who aren't interested in the DND part of the tweak, the table vibrate feature prevents a common problem that can be irritating when it happens.
MyVibe is available on Cydia from the BigBoss repo for $1.99. Check here for instructions on how to jailbreak iOS 6.x with evasi0n. You can also find out how to purchase and install Cydia tweaks with this guide.