Submitted by Marshall Walker on
The popular Xbox Live game Yet Another Zombie Defense is now available for the iPhone, iPod and iPad. Even better, it's being offered half off its normal $1.99 price for a limited time. Yet Another Zombie Defense is a tower defense and dual-stick shooter game where you must survive waves of zombies by barricading yourself in before nightfall. You can buy various weapons to mount onto auto turrets and set up defensive barricades to try and survive the night. The game also offers 16 achievements, and leaderboard support.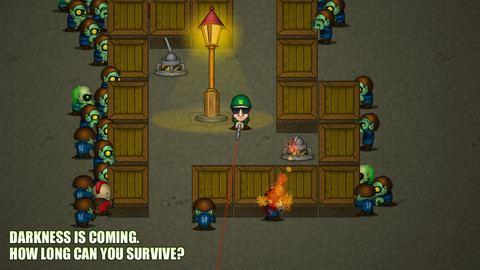 The dual-stick controls can be a little annoying on the iPhone or iPod, and having to restart every time you die is very annoying. However, I think most strategy / defense fans will enjoy this game, especially on the iPad (or maybe the iPhone 5's larger screen). The only game I can compare it to is The Last Stand 2, but I think Last Stand is better. You can download the Yet Another Zombie Defense Lite for free before investing the $0.99. But makeup your mind quickly because it won't be $1 forever!
Yet Another Zombie Defense is compatible with the iPhone 3GS, iPhone 4, iPhone 4S, iPhone 5, iPod touch (3rd generation), iPod touch (4th generation), iPod touch (5th generation) and iPad. It requires iOS 4.0 or later, and is optimized for the iPhone 5.