Submitted by Frank Macey on
Competition in the streaming music business is heating up. There are more options now for consumers, whether they're seeking free radio stations or customized paid music services. Spotify has just launched a major update to their iOS app, bringing the software to version 0.6.0.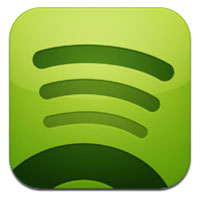 The latest Spotify features a completely new interface with a sidebar that can be accessed by swiping to the right or pressing the menu button. The song you're listening to will be displayed on the Now Playing bar, which also acts as a music control. Switching tracks is as easy as swiping the bar. Touching the cover art will open an extended view with even more controls.
There's also a new track menu, which will open by pressing a special button on any track. Several bug fixes are also included in the 0.6.0 update. Some users experienced a problem where the wrong track was displayed on the lock screen, now Spotify claims the correct track will always be listed. Issues with the warning "Track only available online" appearing after startup have also been corrected.
Spotify continues to improve its services, which give listeners in the US access to free radio stations. Songs that are favorites can be saved for future listening. Millions of songs are accessible using Spotify on the iPhone, iPad and iPod touch. Spotify has also launched its Premium service, which provides access to stream anything from the Spotify library, syncs playlists and allows listening offline. Spotify Premium currently runs $9.99 per month and offers a free trial.