Submitted by Chad Shmukler on
There's little doubt that you've read about the golfer who's now smashed Apple iPhone protected him from grave injury on the golf course by blocking a golf ball from contact with his body. As it turns out, acting as body armor isn't the only useful thing your iPhone can do on the golf course.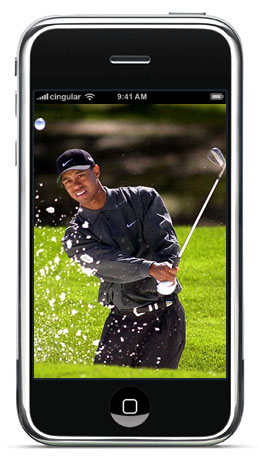 If you're tired of uncrumpling your scorecard or trying to figure out where you put that tiny little pencil when you're out on the course, don't worry. Thanks to a new iPhone application called "iPhone 18", you can now track the round scores of you and up to 3 other players using your iPhone.
iPhone 18 is a Javascript application intended for use on the iPhone. It jives nicely with the look and feel of the iPhone and uses traditional iPhone effects, such as slide in and slide out transitions, to further promote an iPhone-ish experience.
Although the folks at iPhone 18 definitely have the right idea, we think the application still needs a bit of work before it would really be a practical tool while out on the course. For one thing, the Javascript behavior is slow, even by iPhone standards. What's more, the application lacks some features that would be incredibly useful to even less than serious golfers.
The application absolutely needs the a feature allowing users to track eagles, birdies, bogies, etc. This could easily be accomplished by letting the user enter the par value for each hole when entering the score. We'd also love to see tracking of greens and fairways in regulation. Lastly, to make iPhone 18 truly useful, the addition of a feature to email yourself a .CSV or .XLS of your completed round score.
Head to www.iphone18.com from your PC or iPhone browser to find out more or give iPhone 18 a try.
One bit of advice - if you're in the habit of tossing or stamping on your scorecard at the end of your golf round (I know we are), try to break that habit before transitioning to iPhone score keeping.
[via iPhoneMatters]