Submitted by Marshall Walker on
I finally upgraded from iOS 5.0.1 to iOS 6.1.2 and jailbroke my device using evasi0n. While I'm happy about being all caught up and ready for the iOS 6.1.3 patch, I was also disappointed to learn Apple changed how icon movement works. This means tweaks such as AlwaysArrange have been rendered useless on iOS 6. However, themers will be hapy to know jailbreak developer chpwn has updated the very popular jailbreak tweak Gridlock with iOS 6 support.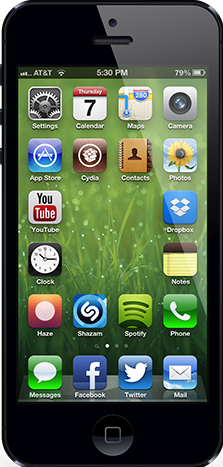 Gridlock 2.0 allows you to place your app icons anywhere on your Home screen without other apps replacing them. This gives you the ability to create different patterns, or to show off your wallpaper by moving apps out of the way. Gridlock 2.0 is much better than using blank icons or hiding apps with other jailbreak tweaks.
Unfortunately Gridlock 2.0 is a complete rewrite, meaning it took a lot of work which forced chpwn to charge for the tweak. Original Gridlock owners will receive a discount if they decide to upgrade, but new users will have to pay $4.99 for the download. Gridlock 2.0 is available now via the BigBoss repo in Cydia.