Submitted by Marshall Walker on
AT&T has responded to the smartphone unlocking controversy sweeping the nation. If you do not know the story, here is a quick recap: On January 26, 2013 the Digital Millennium Copyright Act (DMCA) exemption that made unlocking your cellular phone legal expired. This made it illegal to unlock your device without your carrier's permission. Smartphone users responded by posting a petition on the White House's We the People website. The petition gained over 100,000 signatures before 30 days, which prompted an official response from FCC Chairman Julius Genachowski.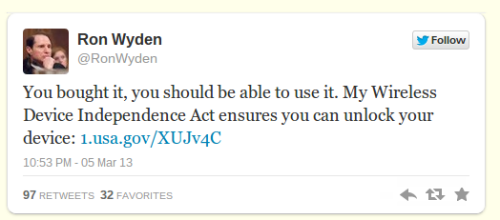 Genachowski said the ban "raises competition concerns," as well as "innovation concerns", and Senator Ron Wyden (D-OR) responded by creating the Wireless Device Independence Act. This bill ensures people can unlock their devices without a carrier's permission.
AT&T responded today by reminding its customers they will unlock any phone not on contract, but only if their account is in good standing.
"While we think the Librarian's careful decision was reasonable, the fact is that it has very little impact on AT&T customers. As we make clear on our website, if we have the unlock code or can reasonably get it from the manufacturer, AT&T currently will unlock a device for any customer whose account has been active for at least sixty days; whose account is in good standing and has no unpaid balance; and who has fulfilled his or her service agreement commitment. If the conditions are met we will unlock up to five devices per account per year. We will not unlock devices that have been reported lost or stolen."
This is good news for AT&T customers looking to sell their device, or who plan to travel outside of the United States. It will also be interesting to see how other carriers respond, and if Wyden's bill is made into a law.