Submitted by Chad Shmukler on
Most iPhone owners out there have been awaiting a second iPhone update as eagerly as they were awaiting the first iPhone update. Well, the good news is, Apple issued the second update, 1.0.2, to the iPhone this evening.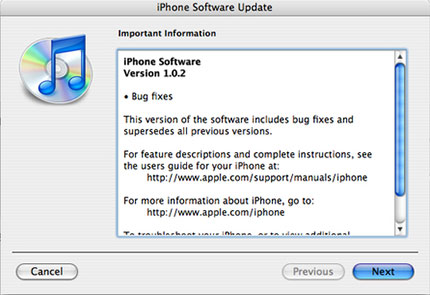 For the time being, it doesn't look like there's too much to talk about surrounding the 1.0.2 update. Information provided by Apple indicates that the update contains only bugfixes and does not
include new features or other additions.
Now, don't misunderstand, we're not about to downplay the importance of bugfixes. Without question, the most important feature for any iPhone to provide is proper operation. It is just that we've all been sorely awaiting the addition of some new features, features we'll evidently have to keep waiting for.
It is also worth keeping in mind that Apple provided similar information about the
1.0.1 update
, and although it didn't turn out to include major feature additions. We all got a handful of
improvements and small feature additions along with 1.01
.
Though no such additions have been confirmed for 1.0.2 as of yet, there are some early reports of volume improvements with voicemail and calling. These volume improvement reports also followed 1.0.1, but were never proved (or disproved) to be anything but wishful thinking. Let's hope that this time around, they're the real thing.