Submitted by Bob Bhatnagar on
Believe it or not, just 100 iPhone apps can contain thousands of individual sound effects and other audio files. AudioExplorer+ quickly and easily catalogs all of these different clips and makes it possible to preview the sounds, add them to the iPod library, and export them to the list of ringtones.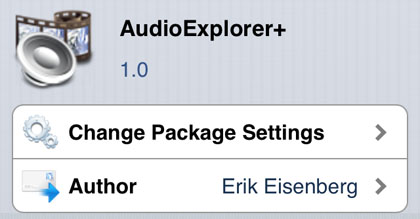 The first time AudioExplorer+ runs it will scan all of the App Store and Cydia app folders on your device for sound effects and music playable by iOS. Search time will vary depending on the speed of your iPhone, how many apps are installed, and how many sound effects are contained within each app. When complete, all audio files are neatly listed by app and can be previewed instantly.
Once you've found a sound effect you want to hear every time someone calls, tap the blue circle next to the filename. The sound can be opened in an external app, or added to the iPod library or Ringtone list. AudioExplorer+ will queue a list of sounds to process into ringtones. When you're ready to add the ringtones navigate to the Queue and tap Go.
After processing, check out Settings -> Sounds -> Ringtone and the new audio files will be added to the list. The jailbreak app also has other features, which make it possible to see the path of an audio file or browse the file system. The following file extensions will be located by AudioExplorer: aa, ac3, aac, adts, aif, aifc, aiff, au, caf, mp3, mp4, m4a, m4b, sd2, snd, and wav.
AudioExplorer+ is available on Cydia from the BigBoss repo for $1.99. There's also a free version called AudioExplorer that lets you explore the sounds on your iPhone before buying. Check here for
instructions on how to jailbreak iOS 6.x with evasi0n
. You can also find out
how to purchase and install Cydia tweaks with this guide
.