Submitted by Frank Macey on
Tumblr fans will be happy to know the site has released a major update to its iOS app. Version 3.3 includes a brand new camera and the ability to create photosets right in the app. Previously, Tumblr iOS users had to download the separate Photoset app to make this happen.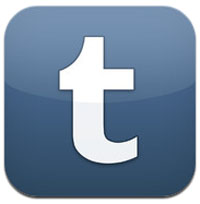 Photosets are a Tumblr feature that makes it possible to arrange your photos in a special layout for sharing with friends and family. Once created, the photoset can be shared using a variety of methods, including Tumblr, Twitter, email and more.
Some other additions to the user interface have also been launched with the latest version of Tumblr. Users can now tap the avatar in their profiles to change it, and a post can be liked by simply double-tapping it. Tumblr's last major update was in December, when the site optimized the iOS app for the iPad's larger screen, and added the new Explore tab.
As always, Tumblr is free to download and use. The app offers a simple way to blog and share anything, including photos, videos, quotes, chats, links and text. Multiple blogs can be managed directly in the app, with offline support for posts, replies, reblogging and liking in case your iOS device has no data connection.
Here's the official list of what's new in Tumblr version 3.3 from
iTunes
:
- Brand new camera!
- Create photosets straight from the app
- Double-tap posts to like!
- Tap the avatar in your profile to change it
- Link posts: Copy or enter a URL and we'll fetch the title!