Submitted by Frank Macey on
Remember when your old cellular phone had a blinking status light? Some models even flashed when there was an incoming call or text. These days the iPhone is capable of giving you similar visual alerts when you aren't looking at the display.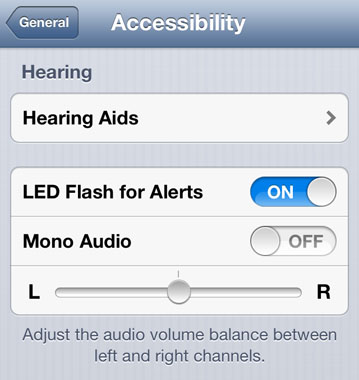 Accessibility options are designed to help make the iPhone more useful to those with disabilities, of course many of the features are useful to anyone who owns the device. The iPhone flash can be used as an alert notification all on its own. Incoming calls can transform the LED on the back of the handset into a flashing beacon.
To activate this feature, simply navigate to Settings -> General -> Accessibility -> Hearing -> LED Flash for Alerts -> ON.
Once set, the flash will do its thing whenever the display is in sleep mode. It works whether the iPhone ringer is on, silenced or in vibrate mode. Remember, the iPhone flash is bright. Compared to the old cellular phones, the LED will be much more noticeable. In a darkened setting, the light can even be as much of a disturbance as a vibration or ring. In any event, using the flash for an additional alert notification can be handy in certain situations.
Just make sure your iPhone is placed face down so you can see the flash!