Submitted by Frank Macey on
Spruce up your reminders with a handy countdown app. Reminder & Countdown free covers all the bases when it comes to displaying how much time is left until an event or holiday. Anything at all can be logged with a time and Reminder & Countdown will automatically alert you before or when it happens.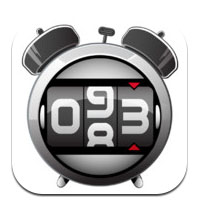 Reminder & Countdown free version 1.5 requires iOS 5.0 or later and is optimized for the iPhone 5 display. The app is supported by small banner ads at the bottom of the screen, which don't interfere with the reminders or functionality of the app. Upon first opening Reminder & Countdown the master list of events appears along with real-time countdowns.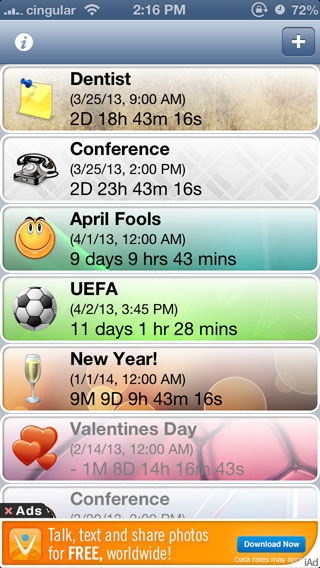 Depending on how you've set up your reminders, this page can be rather busy. Choosing to show seconds, for example on every entry results in all of the tickers counting every second in real time. What's great is you can customize the icon, background, font and other details of each item. Items that have already passed are listed at the bottom, with time elapsed since the date. Any reminder can be deleted with a swipe from left to right. Events cannot be reordered in the list, although this might defeat the purpose of a chronological countdown!
Tapping the info button in the upper left corner makes it possible to register default settings. These will appear as the base design every time you enter a new event to the list. Settings include the time format, alert sound, background and font to use for new events. When you're ready, the plus button in the upper right corner adds a new reminder and countdown.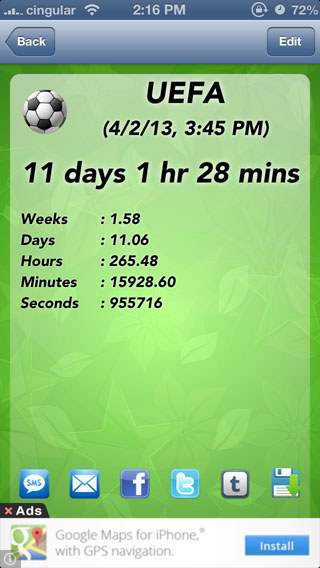 So what about the reminders themselves? Tap any event and Reminder & Countdown free opens up the main screen for that event. Besides providing excruciating detail about how much time is left until the event happens, there's a bevy of share options at the bottom of the screen.
Tap SMS and a text message will be generated explaining when your event is due. Email gives the choice of sending text or image, and you can share using Facebook, Twitter and Tumblr, too. The app will even save an image of the event for your home or lock screen.
The settings for each reminder provide several options to customize everything from the appearance to repeat behavior of each event in the list. Notifications can be set for before an event happens with fine-grain control down to minutes right up to years in advance. Each reminder can be set to use its own ringtone or alert sound.
When the app sends its alert, the information pops up just like any other in the iOS notification center. Reminder & Countdown will let you know when one of your events is happening at any time, without being open or running in the background. Tap a banner notification and the app opens directly to the event.
If you like the app and are looking to upgrade, there's even an option to buy Reminder & Countdown Pro for $0.99. Besides removing the ads, the pro version makes it possible to import information from the Contacts (birthdays, anyone?) and select your own images from Albums and the Camera Roll.
Pros: Free, simple to use, delivers all of the needed features for a proper countdown and reminder
Cons: Icons and backgrounds can get too busy depending on settings, no option to auto-delete events that are over
For more details check out Reminder & Countdown free on iTunes.