Submitted by Bob Bhatnagar on
Unlocking the iPhone, navigating to Settings and burrowing down into several menus just to switch something off can waste a lot of time. Developer Samball has released the jailbreak tweak LockscreenToggles to circumvent the entire process, making settings toggles accessible directly from the lock screen.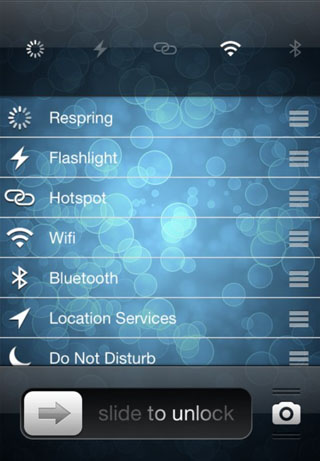 Once installed, LockscreenToggles has no settings to configure, simply swipe left on the lock screen clock to reveal five toggles. To see the rest of the toggles, swipe down. Toggles can be rearranged by dragging and the top 5 in the list are the ones that will appear in the horizontal bar at the top. Tapping a toggle will switch the setting ON or OFF.
Currently there are 10 toggles available:
- Airplane Mode
- Bluetooth
- Do Not Disturb
- Flashlight
- Hotspot
- Location Services
- Orientation Lock
- Reboot
- Respring
- Wi-Fi
Samball plans to add more toggles in the future. The tweak is compatible with other lock screen mods such as LockInfo, SubtleLock and others. For those looking to quickly toggle settings directly from the lock screen, LockscreenToggle provides a simple and quick option.
LockscreenToggles is available on Cydia from the BigBoss repository for $0.99. Check here for instructions on how to jailbreak iOS 6.x with evasi0n. You can also find out how to purchase and install Cydia tweaks with this guide.