Submitted by Bob Bhatnagar on
Shortcuts save time, especially when navigating a deep menu structure such as the iOS settings menu. Pinnacle is a jailbreak tweak that simplifies navigation of these menus by providing a shortcut to the top level menu.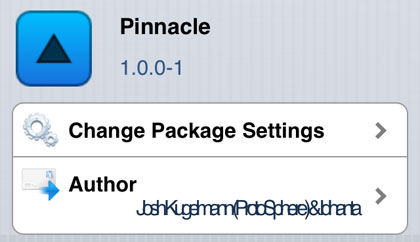 Not only this, but you can configure Pinnacle to provide a history of all the menu pages previously visited, which makes it simple to jump back to a specific page needed. Normally, navigating through Settings requires flipping back and forth though several separate pages of information. With Pinnacle installed you can simply press and hold on the back button and you'll automatically be returned to the top level menu page.
Enabling the Show Menu option in Settings -> Pinnacle will display a history of pages visited when long pressing the back button in the current menu. This makes it possible to jump directly to a specific page. The Pinnacle tweak works in the built-in Settings app and many other apps that include multiple menu levels to navigate. With Pinnacle installed, you can improve navigation between multiple levels of deep menus and shortcut to the top level directly.
Pinnacle is available on Cydia from the BigBoss repository for free. Check here for instructions on how to jailbreak iOS 6.x with evasi0n. You can also find out how to purchase and install Cydia tweaks with this guide.