Submitted by Bob Bhatnagar on
Looking for a one-stop solution to change the colors of the built-in iOS user interface? Accentify makes it possible to select from a list of 15 colors to change the default light blue tint found throughout the iPhone operating system. No respring is required for changes to take effect, only a jailbroken device running iOS 6 or later.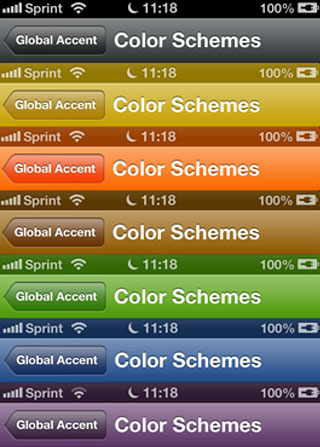 Under Settings -> Accentify there's even an option to create a custom color for the UI using red, green, and blue element sliders. Beware, color selections will change the color of different UI accents across applications, not just stock apps. If something doesn't quite match you can tell Accentify to use the default iOS color for specific apps, by toggling the app under Settings -> Accentify -> User Applications.
This can be handy when apps have dark backgrounds that might clash with some of the brighter Accentify colors. Switching them to use the default iOS color can correct their behavior so everything looks nice. In the meantime, it's amazing what a difference just changing the color of the UI can make on your device. Stock iOS colors are always the same, and with Accentify there's no need to install Winterboard or deal with any quirky themes.
Accentify is available on Cydia from the BigBoss repo priced at $0.99. Check here for instructions on how to jailbreak iOS 6.x with evasi0n. You can also find out how to purchase and install Cydia tweaks with this guide.