Submitted by Marshall Walker on
The first drag queen mobile game is coming to iOS devices on May 6, 2013. RuPaul's Drag Race: Dragopolis will be available in the App Store on the same day RuPaul crowns the newest Drag Race Superstar on Monday at 9/8c on Logo TV. In Dragopolis, players must help their character reclaim her title as Queen of Dragopolis by defeating the evil drag queen Apocalypstyk.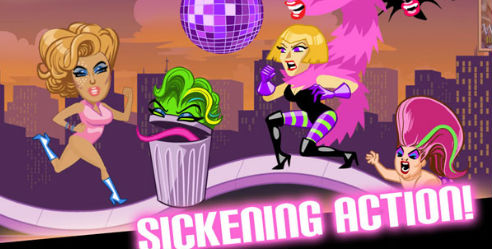 Users will be able to customize their drag queen with new wigs and outfits while sashaying their way to the nightclub to confront the final boss. The game will be free to download with the option to unlock other popular RuPaul's Drag Race contestants like Manila Luzon, Pandora Boxx and Yara Sofia for $0.99.
UPDATE: Here is a little more info thanks to the team behind the app.
RuPaul's Drag Race: Dragopolis is a fantabulous adventure starring a drag queen fighting for RuPaul. The evil drag queen Apocalypstyk has broken into the workroom on day one of RuPaul's Drag Race in order to sabotage the show and kidnap the sexy men in the pit crew. Players control our drag queen heroine, and can customize this ferocious character with sickening wigs, outfits and even their own face. In order to save the day, she races to the main stage, jumping and clawing her way past Apocalypstyk's increasingly fierce minions, all while serving up new looks for the photo shoots! There is no RuPaulogizing in this game!
The game was developed by So Much Drama Studios who also created the iOS game Fireflies.
"Drag is such an amazing form of entertainment," said Jeff Meador, the game's creator and head of So Much Drama Studios. "I love the wit, theatricality, and heart that drag performers bring, and 'RuPaul's Drag Race: Dragopolis' is a great way to celebrate that. We've had so much fun making this game, and the support we've been getting from the drag community has been incredible."
Check out the teaser for RuPaul's Drag Race: Dragopolis below. An Android version of the game will be released later in 2013.
[via New Now Next]