Submitted by Chad Shmukler on
There's been a lot of speculation about whether or not the iPhone would come to Europe in updated 3G form or as just the same old EDGE model available in the US. There were even rumors that Apple was going to announce the 3G European version of the iPhone at it's September 5th media event. Though the media event provided no such revelation, we've got our latest item stoking the fires of the 3G European iPhone rumors.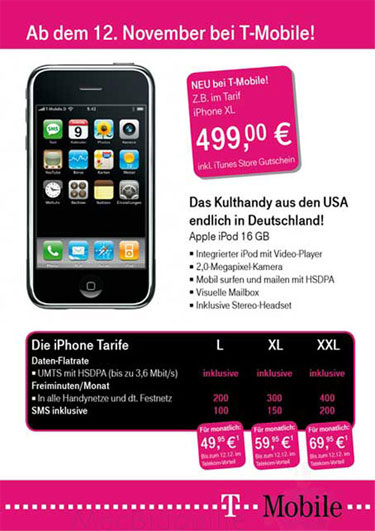 A European Mac blog recently published the above T-Mobile advertisement which, if authentic, clearly
indicates that a 3G iPhone is landing in Germany. It also reveals the release date of the 3G iPhone, coming November 12th according to the advertisement.
According to the advertisement, the iPhone will be sold for 499 Euros (approximately $690 USD) when it is released in Germany.
The advertisement also suggests that the 3G iPhone will provide 16GB of storage, as opposed to the 8GB offered by the US EDGE model. Should a 16GB iPhone be on the way, no one would be surprised, as a result of the announcement of the 16GB iPod Touch at this week's media event.
By that same token, the 16GB detail in the advertisement is as much a concern for authenticity as it is for excitement. If you look closely, you'll notice the 16GB text refers to an "iPod". While this could possibly be referring to the iPod functionality of the iPhone, it's unlikely such a "typo" would make it to the presses.
As always with these rumors, there's no easy way to verify the veracity of the material. All we can do is blather on about it and wait to see what happens.