Submitted by Frank Macey on
A recent report accused Apple and wireless carriers of purposely slowing down data speeds on iOS devices. The controversy revolved around so-called "throttle coding" in carrier files used for network provisioning. The site AnandTech has now published a thorough report explaining why this is not the case.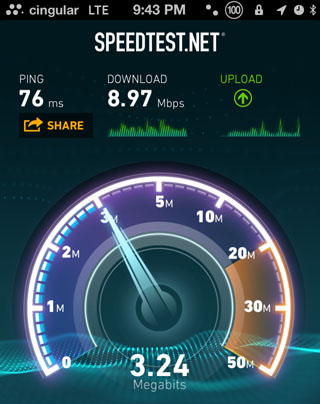 Not only does Apple have no incentive to limit data speeds on iOS devices, but traffic is better managed on the network as opposed to locally on individual iPhones. AnandTech also throws cold water on the concept that installing modified carrier files can "magically" increase data speeds on iOS. Basically, nothing on Apple's mobile devices prevents the iPhone or iPad from utilizing whatever is provided by the cellular network.
AnandTech explains:
Apple doesn't openly document what these settings all do, because it doesn't have to since they're only developed and maintained internally, however nearly all of it is immediately obvious if you know the lingo. The problem is that a few of these were misinterpreted, leading to the false conclusion that there's some throttling conspiracy at play here, when there really isn't.
Although network operators may have to use traffic management to keep things flowing smoothly, ultimately they want iPhone users to experience the best speeds possible so they look good and keep their customers.
Contrary to reports, the original post from iTweakiOS is still available at a different URL, and author Joe Brown seems to be sticking by his guns. He comments:
AnandTech is very biased to Apple. Even their viewers are saying such in the comments. I'm not saying I don't like Apple, but I disagree with how they operate certain things. As far as the article goes, they seem to come off as "all knowing" like they somehow know every single specific detail to every bit of coding that Apple uses, which seems suspicious, if not, totally made up.