Submitted by Bob Bhatnagar on
There are many ways to hack the iPhone, even without a jailbreak installed. iTweakiOS is no stranger to the process, having released several modified carrier bundles in the past. Now the site claims to have discovered a free, simple method to enable personal hotspot tethering on the iPhone free of additional subscription charges.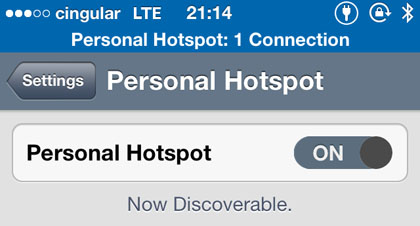 Normally carriers charge an extra fee to activate tethering and make it possible to use your iPhone cellular data connection with other devices. Now according to the guide from iTweakiOS, anyone with a GSM iPhone or iPad running iOS 6 or later can start using the personal hotspot after following a few steps to modify specific .plist files in iOS.
Make sure your device is backed up if you decide to give the hack a try, just in case any files need to be restored should something go wrong. The procedure is reportedly confirmed to work on T-Mobile. Remember, tethering other devices such as notebook computers to your iPhone or iPad can eat up a limited cellular data allotment quickly.
From iTweakiOS:
So you want free hotspot on your iPhone or iPad but don't have a jailbroken device, huh? Well, I come with good news for a lot of you today. Many of you may remember a story I put out awhile back talking about how CommCenter blocks edited carrier.plist files and I may have found a work aroun to get things like personal hotspot enabled. Well, I've found the solution, but first, let's talk about why CommCenter blocks plist editing. This happens because of the very thing we're doing right now, which i suspect will likely be patched quickly by iOS 7 GM release time.
People were enabling tethering by modifying the original carrier.plist files and this stopped entirely when Apple implemented signatures into the carrier.plist files and creating what we all know as CommCenter which is the process that checks these signatures. So, the challenge was finding a way to enable hotspot without CommCenter checks and verifications. After months of research and digging, I've finally found a genuine workaround to enable this great feature and its quite simple, really.
Find complete instructions on how to enable personal hotspot for free directly from the iTweakiOS guide.