Submitted by Frank Macey on
Google released version 2.0 of its Maps application for iOS earlier this month. One feature that was not mentioned in the official change log is the ability to cache maps. In fact, this capability is hidden and requires a special trick to activate. Performing this one simple step will automatically pre-load the current map into your local cache, making it viewable offline.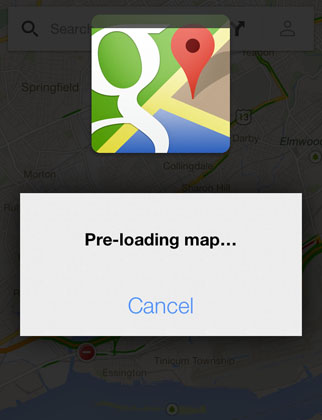 This means if you suddenly lose your data connection the map is still available. To save a map to your iOS device, just zoom into the area you want to download then type "Ok maps" without the quotes into the Search box, then hit Search. If successful, Google maps will provide a pop-up box noting that the on-screen map area has been cached.
Trying to save the entire continent won't work, Google Maps will force the user to limit the saved map to a smaller zoomed in area. Once a map is saved, all of the information right down to the street level is accessible without a data connection. This can be a handy feature when traveling or heading somewhere with spotty connectivity.
Note that to delete local copies of maps on your iOS device you must clear Google Maps application data. Navigate to Settings -> About -> Terms -> Clear application data and confirm to remove cached maps and cookies from the app.
The secret method to save Google maps for offline viewing is not the only new feature included in Google Maps 2.0. Here's the complete list of changes:
- New design for iPad
- Enhanced navigation including live traffic updates and incident reports
- Explore: A new way to browse and discover popular local places to eat, drink, shop, play and sleep
- Simple 5-star ratings and reviews from friends, plus expert Zagat content
- Great deals from your favorite brands with Google Offers
- Indoor maps with walking directions for malls, transit stations, airports and more
As usual, Google Maps is available free on iTunes.