Submitted by Frank Macey on
Fans of vintage American muscle cars can now drive their favorites in Real Racing 3. The latest update brings RR 3 to version 1.3.0 with multiple improvements and physics enhancements. Not only do Dodge and Shelby add old-school V8 power to Real Racing, but improved cameras and new events provide incredible thrills on the racetrack.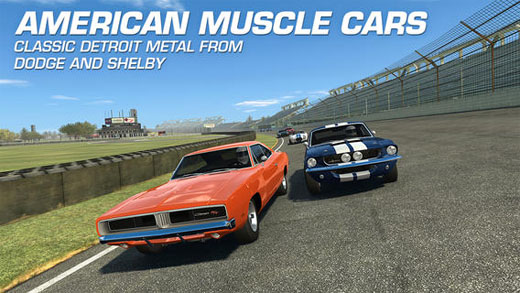 As usual, you can race you friends anytime with Time Shifted Multiplayer while enjoying dynamic reflections, fully functioning rear view mirrors, and access to a competitive racing community. The Mint 3 Engine powers Real Racing 3, and now that classic Detroit muscle is available, nothing can stop iOS drivers at the track.
Real Racing 3 is free to download and play, but make sure you have enough space on your iOS device. The latest version clocks over 913 MB and requires at least 1.2 GB of free space before installation to run properly. This is because "meticulously detailed" graphics of "superior quality" require more system resources, and EA has clearly set the standard for mobile racing games with RR 3. The game is currently the top free app in over 90 countries worldwide.
Requires iOS 4.3 or later. From the official
iTunes update
:
An iconic generation of cars joins Real Racing 3's diverse garage, with the introduction of timeless classics from Dodge and Shelby.
- New cars – Dodge and Shelby add a collection of big V8 muscle cars to Real Racing 3
- New events – compete in multiple challenging Series featuring a field of muscle cars hailing from Detroit
- Difficulty tuning – faster and more accurate skill adjustment for even tighter competition
- Visual physics enhancements – classic muscle cars come to life with realistic pitch and bodyroll
- Improved cameras – enhanced sense of speed and motion yields a more authentic racing experience
- Additional social networking options for enhanced Time Shifted Multiplayer and Cloud Save functionality