Submitted by Frank Macey on
Real Racing 3 for iOS continues to receive frequent updates from Electronic Arts. This time, the most significant change adds real-time multiplayer so that several players can race simultaneously using Game Center. Previously, the only way to race another player was to compete against an avatar replaying a completed race.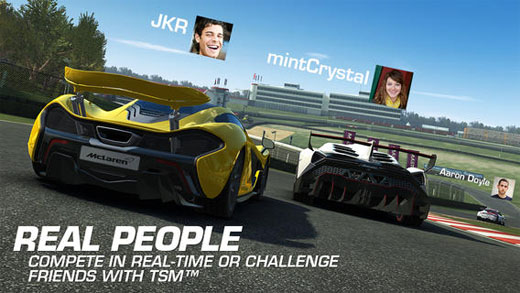 Version 2.01 irons out some bugs with the real-time multiplayer feature, which initially disconnected all participants when one player was experiencing a bad connection. Real Racing 3 now has even more new cars to race, including the Lamborghini Veneno and McLaren P1 added in the latest update. Real Racing 3 is free to play, with in-app purchases available to enhance the experience.
Many performance issues and bugs have been fixed, and new events and game modes keep things fresh. For fans of racing games, Real Racing 3 pulls out all the stops to bring top notch graphics and gameplay to the iPhone, iPad and iPod touch.
Here's the complete change log for version 2.01 from iTunes:
- Fixed a bug in Real-Time Multiplayer where all players could be disconnected when one player had a very bad connection
- Real Racing 3 takes competition to the next level this holiday season with the introduction of Real-Time Multiplayer
- New Mode – hit the asphalt with up to four friends or rivals in Real-Time Multiplayer via Game Center
- New Cars – the Lamborghini Veneno and McLaren P1 join the high profile roster of 79 fully licensed vehicles
- New Vertex event series - race the new Supercars in a deep Career Series featuring epic Cup races
- Special Holiday Livery – free for your Ford Focus RS
- Replay camera fixes
- Removed problematic barrier on Hockenheimring
- Fixed Crew use during Time Trials
- Other improvements
Real Racing 3 can be downloaded free and is compatible with iOS 5.0 or later. This universal app requires at least 1.1 GB of storage space to install.