Submitted by Chad Shmukler on
A new version of iNdependence, 1.2.5, is now available. iNdependence is the most widely used tool for jailbreaking and installing third party applications on iPhones running, or looking to upgrade to, iPhone firmware version 1.1.1.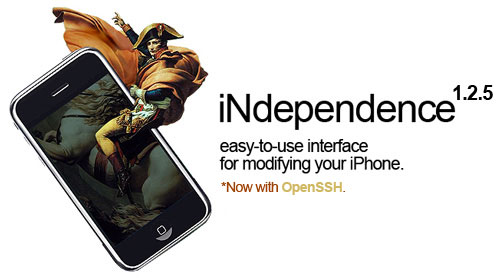 Like it's recently released Windows counterpart (of sorts), iDemocracy, iNdependence provides a great deal of automation to an otherwise lengthy and technical jailbreak process. While both solutions require a reasonable amount of manual effort from the user, many tedious steps are eliminated or shortened.
Though we were hoping for working ringtone support, unfortunately, ringtone customization is still not quite working in
this new release. Following is a list of the newest changes, fixes, and/or additions in the new version of iNdependence (from the iNdependence CHANGELOG):
Put in factory activation (lockdownd patch) for all known firmware versions (1.0, 1.0.1, 1.0.2, 1.1.1)
Due to the above change, activation will not return your phone to jail anymore (something requested by many people)
Increased the SSH timeout to 300 seconds (5 minutes)
Fixed YouTube enabling for all known firmware versions
Switched from Dropbear to OpenSSH in hopes that this will finally solve the SSH timeout problems people are having
Many documentation updates dealing with all the problems one can face when downgrading to 1.0.2 and doing the special upgrade to 1.1.1. I walked through this entire process myself again to ensure that the documentation is perfectly accurate and clear about all the steps.
Updated the documentation about SIM unlocking and upgrading to 1.1.1 to be clear about the difference between anySIM 1.0 and anySIM 1.1
Added dialog during SSH removal which asks whether user wants to also remove libarmfp.dylib at that time. The reason is because removing this file could cause any installed 3rd party applications to become inoperable.
Ringtone customization still doesn't work in this release
The latest verison of iNdependence is available for download at the
iNdependence project page on Google Code
.