Submitted by Frank Macey on
Bing has joined the ranks of redesigned iOS apps, taking on a new color scheme and flat look inspired by iOS 7. Color scheme and logo updates mean that the Bing app now matches the web version of Microsoft's search service. The revamp is not only cosmetic, but the company has added several new features to its search app.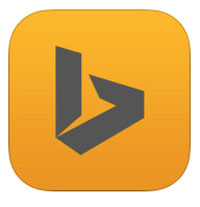 Version 4.2 of the Bing app now supports animated GIFs, and makes it possible to erase the local search history. Microsoft account users can sign in and stay logged into the app for a longer time period, reducing the number of times a password needs to be entered.
Previous updates to Bing incorporated full Retina display support, new user interface features, and integrated SkyDrive support. Besides web search, Bing includes maps, shops, restaurants, ratings, price information, directions, traffic, weather, news and image search functionality. In fact, Bing was added as a default search option next to Google and Yahoo! in Safari with iOS 7.
Microsoft recently made news with the release of its Remote Desktop app for iOS, allowing Windows PC users to remotely connect with their iPhones and iPads.
iOS users running iOS 4.3 or later can use Bing, which is a
free download on the App Store
.