Submitted by Chad Shmukler on
Although you wouldn't say the November 9th launch of the iPhone on O2 in the UK is "right around the corner," that's not stopping O2 stores from getting their iPhone displays up. In preparation for what is certain to be a very energetic lanch in the UK, O2 stores around the country have begun dressing up for the release.
A MacRumors forums member, DogcowUK, recently snapped the above shot of an employees at an O2 store in Birkenhead, Merseyside setting up their in-store display: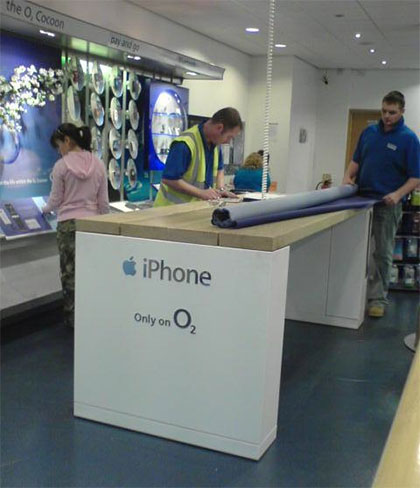 Reports indicate that O2 stores around the UK are also getting their iPhone displays ready to go for November 9th. The iPhone will go on sale in the UK on November 9th will sell for £249 (8GB). Plans will range from £35 to £55 and will all include unlimited data and access to the aforementioned WiFi hotspots.