Submitted by Colin Breck on
O2 recently launched a new YouTube channel, called O2 Guru TV, which is surprisingly chocked full of information on how O2 customers and other smartphone owners alike can get the most out of their devices.
The channel is an extension of a program O2 began earlier this year, through which they offer over 250 in-store "gurus" to provide expert instruction and advice to customers. The idea has had many comparisons drawn to Apple's Genius Bar program.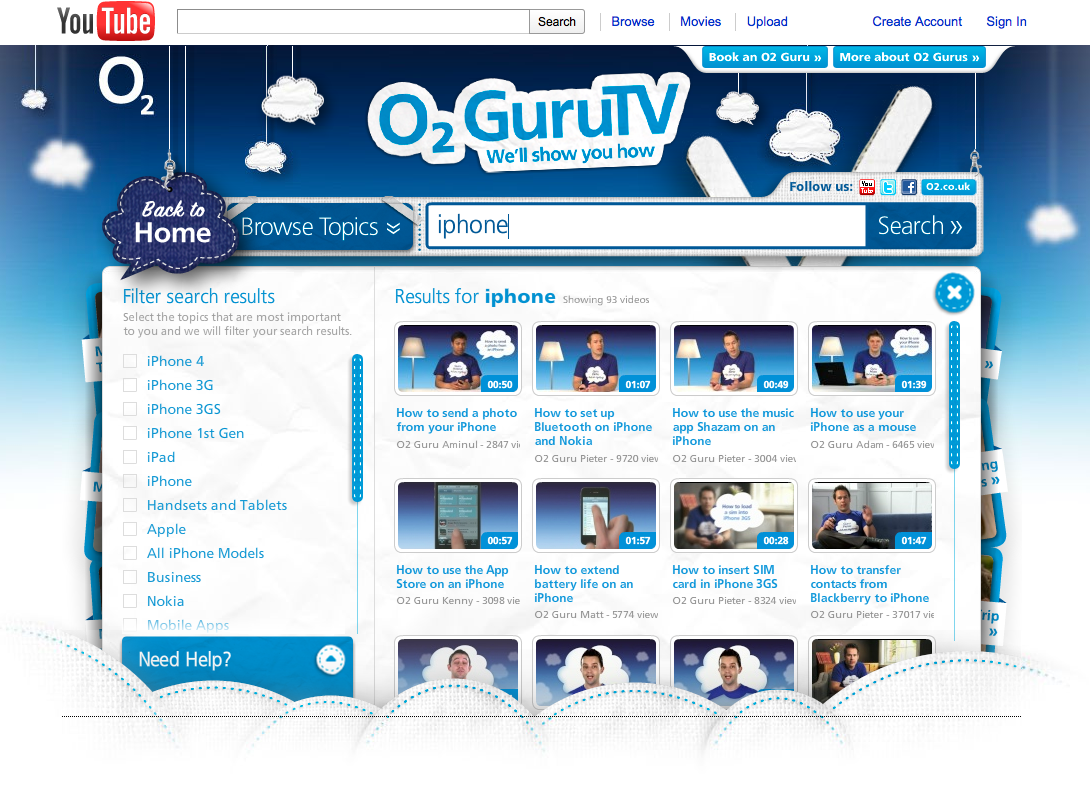 O2 Guru TV currently offers over 700 videos on topics ranging from how to perform an iPhone backup, to how to maximize your iPhone battery life, to setting up bluetooth and adding ringtones to your iPhone. Many commonly experienced problems with the iPhone are addressed in detail, helping users put frustrating dilemmas behind them. With almost 100 videos dedicated to the iPhone, O2 Guru TV even offers detailed video instruction on specific iPhone apps, such as installing and setting up apps like Shazam and Photoshop Express. Have you ever wanted to use your iPhone as a mouse? O2's gurus have put together a video showing you how.
There's plenty of content for non-iPhone owners as well. O2 Guru TV offers instructional videos related to the iPad, a plethora of Android devices, BlackBerry, as well as questions specifically related to O2's service. The videos are well organized, straightforward, and give viewers easy-to-understand instructions on how to maximize the potential of their devices. It's also worth mentioning that as far as YouTube channel's go, O2 Guru TV is one of the most nicely-designed and easy to navigate channels we've seen.
This sort of customer resource, especially one that doesn't force customers to come into the store, demonstrates O2's dedication to building a rich customer experience. Instead of being content to slap devices in the hands of customers with recently lightened wallets and subsequently offer little in the way of support, O2 is helping owners around the globe make the most of their day-to-day experience utilizing their devices. Happy customers are return customers and O2 seems to understand this.
With over 1 million views, O2 Guru TV is becoming ever-more popular and new content is added frequently. Though more advanced users may find some of the introductory content less than enthralling, given the plethora of videos available, covering a wide range of content, chances are there's something there for everyone. Head over to the
O2 YouTube Channel
to explore.