Submitted by Chad Shmukler on
One of the still outstanding "head scratchers" regarding the Apple iPhone is the continued lack of support for the A2DP Bluetooth profile. Considering the iPhone's roots are in the iPod, a stereo music player, it is quite astounding that as we sit here already up to iPhone firmware 1.1.1, there is still no native support for A2DP. The good news is that this doesn't mean A2DP is unavailable to iPhone users.
For those of you unfamiliar with A2DP (Advanced Audio Distribution Profile), A2DP is a Bluetooth profile that allows for the wireless transmission of stereo audio from a source (i.e. a phone or computer) to an A2DP receiver (a set of Bluetooth headphones or stereo system).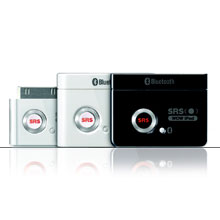 Back to the good news. Though the iPhone itself does not support A2DP directly (at this time), all iPhone owners can still
enjoy the convenience of A2DP headphones, earbuds, and other A2DP accessories. Through the use of an A2DP dongle, such as the one recently released by 8Bananas, any iPhone can send audio to an A2DP receiver.
The good thing about the 8Bananas A2DP dongle, the SRS-200BD, which is "made for the iPod or iPhone" is that it connects to the iPhone's dock connector. Simply plug and A2DP dongle into the iPhone's dock connector, and off you go. There are a handful of other A2DP dongles out there that plug into 3.5mm headphone jacks which would work with the iPhone, but don't offer the same level of compact convenience.