Submitted by Bob Bhatnagar on
The Control Center makes it simple to toggle commonly used settings in iOS 7. But what if you're in a hands-free situation, and need help changing something in a hurry? Siri has your back. With the right voice command, Siri can change settings or enable specific features of iOS while you're driving or otherwise unable to use the screen.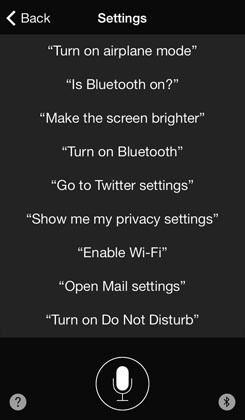 For example, tell Siri to "turn on airplane mode" and voilà, the radios on your iPhone switch off. Other toggles such as "turn on Bluetooth" or "turn off Wi-Fi" will also immediately change these settings. If Siri is asked to turn something on that's already enabled, the personal assistant will let you know this is the case.
Besides these instant toggles, Siri can be asked to navigate directly to a specific settings screen. For example, tell Siri to "open Siri settings" and the menu you asked for will be opened directly. This means a command like "open accessibility settings" brings up the Accessibility menu, without having to navigate through several screens.
Siri can also check on Settings to find out if things are configured to your liking. Asking "is Bluetooth on?" results in Siri letting you know the current Bluetooth toggle status. Siri will also display the toggle switch on the screen, giving the option to manually toggle the setting. Sometimes Siri cannot control a specific setting, such as Personal Hotspot. In this case, Siri will try to direct you to the right area of Settings so you can check on the item the old fashioned way.
Siri will likely gain more control over iOS settings and preferences in future updates.