Submitted by Frank Macey on
As expected, Apple will offer discounts on many of its most popular products on this Black Friday, November 29. The company has already posted a landing page for this year's sale on its Australian website. Deals can be had in Apple retail stores, online, and using the Apple Store iOS app.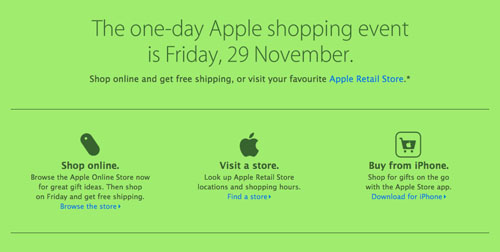 Sale prices will take effect starting after midnight on Friday morning and ending at 11:59 PM. Look for promotional pages to pop up soon in other countries, including the US. The standard disclaimers apply, such as the fact that promotional pricing cannot be combined with other offers. If you're shopping in retail stores, the sale prices are only good while the items are in stock.
As Cult of Mac notes, Apple isn't known for deep discounts. Last year's Black Friday sale offered the following savings:
MacBook Pros – $101
MacBook Airs – $101
64GB iPad 4 – $61
32GB iPad 4 – $51
16GB iPad 4 – $41
16GB iPad 2 – $31
64GB iPod Touch – $41
32GB iPod Touch – $31
iPod Nano – $11
AirPort Express – $11
AirPort Extreme – $21
Time Capsule – $21
Magic Mouse – $11
Magic Trackpad – $11
Wireless Keyboard – $11
Regardless, Apple fans can save a few bucks if they're in the market for a purchase at the end of this week. Black Friday also means free shipping for all purchases at the Apple online store while the sale is in effect.