Submitted by Frank Macey on
That time of year when Apple offers discounts for holiday shoppers is fast approaching. The company has launched its online Gift Guide to help shoppers find the perfect electronic gift. This year, Apple is focusing heavily on the iPad mini, the latest iOS device to hit the market.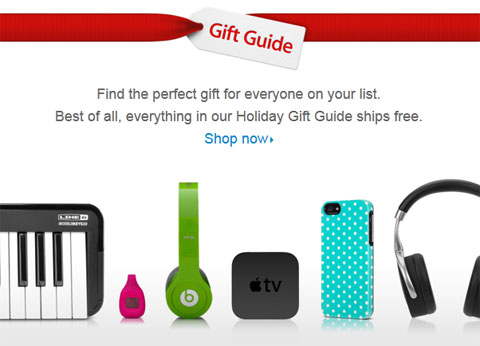 Besides encouraging iPad sales, several accessories are highlighted that can be used in conjunction with iOS devices. Everything from Mac computers to iPhones and musical instruments can be shipped for free on the Apple online store. Apple's Gift Guide is not the only way to find the perfect item for friends and family. Holiday shopping apps such as whohas.it can track hard-to-find items and send alerts directly to your iOS device when a product becomes available.
For its part, Apple normally offers Black Friday sales. No doubt this year's Gift Guide will feature some details on Friday, November 23. Apple shaved over $100 off of a variety of Mac models last year, and offered between $20 and $60 off several iOS devices including the iPad and iPod touch. Keep on the lookout for this year's deals.
The Apple Gift Guide features a special online chat to help shoppers, as well as online ordering with in-store pickup for those who don't want to take advantage of the free shipping. Check out the Gift Guide if you're interested in avoiding lines at Apple's retail stores this holiday season.