Submitted by Frank Macey on
Black Friday deals are here. Apple is offering free gift cards with the purchase of hardware and accessories from retail locations and the Apple Store online. Several iPad models are included in the deals, as well as iMacs, MacBooks and iPods. Unlike previous Black Fridays, Apple has not discounted prices.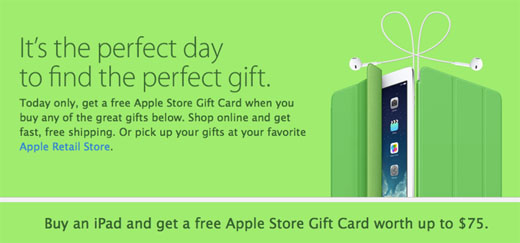 Instead, gift cards range from $150 to $25 depending on the item, and can be redeemed at the Apple Store or online. This ongoing Black Friday special is available at North American retail locations until midnight. Other discounts on Apple products can be found at third-party retailers, such as Amazon, Best Buy, and Target.
Here are some of the products, along with gift card amounts that Apple is currently offering:
- AirPort Extreme: $50
- Anki DRIVE Starter Kit: $25
- Apple TV: $25
- iMac: $150
- iPad 2: $50
- iPad Air: $75
- iPad mini (non-Retina): $50
- iPod nano: $25
- iPod touch: $50
- Logitech Keyboard Cover for iPad mini: $25
- MacBook Air: $150
- MacBook Pro: $150
- Nest Thermostat: $50
- Nike+ FuelBand SE: $25
- Time Capsule: $50
There's plenty of time remaining to take advantage of this Apple deal, with many Apple retail locations closing at 9pm or later. Of course, the Apple Store online can be used to order holiday gear with free shipping, gift cards included.