Submitted by Frank Macey on
Shazam is often the go-to iOS app when it comes to identifying and tagging music. The free service keeps adding on new ways to share, learn about, and listen to music of all stripes. Since the iOS 7 overhaul, Shazam has receive several updates on iTunes, bringing the current version to 7.2.0.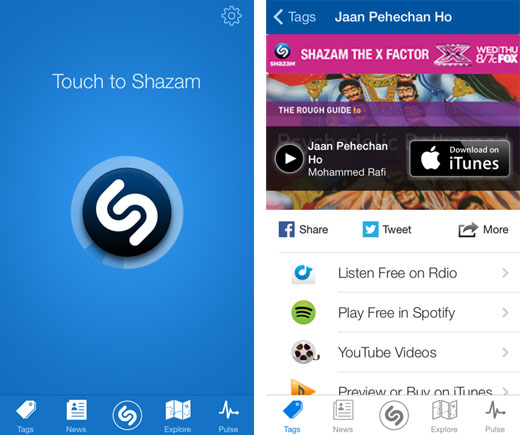 Rdio fans will notice the latest update has a built-in function to play tagged Shazam tracks as a Rdio playlist. For those who aren't familiar, Rdio blends streaming music with social media, making it possible to learn about new music from friends and followers. Rdio functionality joins other services already on the list in Shazam, including Spotify, YouTube, iTunes, lyrics display and more.
Besides a slick iOS 7 inspired interface, Shazam has recently added tag sharing via Facebook as well as a news feed to keep up with information from all of your favorite artists. Of course, tagged tracks can be purchased via iTunes right from the Shazam app. Shazam can also be used to tag TV content and advertisements. Sending Shazam tracks to Rdio opens up a whole new way to integrate music you've heard and liked with Rdio's related artists feature, to find new music.
The official change list from Shazam on iTunes:
New features:
- Connect with Rdio to listen to your Shazam tracks as an Rdio playlist
- Sharing your Shazam tags by email now includes large cover art for your track and links to shazam.com for videos and more
Fixes:
- Improves display of TV results from News
- Restores YouTube video playback for iPad
- iPhone 4 users: Fixes disappearing navigation on Explore screen
Shazam is compatible with any iOS device running iOS 6.0 or later. While Shazam is free, they also offer an ad-free version known as Shazam Encore for $6.99.