Submitted by Frank Macey on
Apple is rolling out its iTunes Match service to several new countries today, including Austria, Greece, Italy, Portugal and Slovenia. A full report on the launches was first revealed by MacStories. Even though iTunes Match is now live in Italy and terms of service have been changed to include Match in other countries, Apple has yet to update its official iTunes Match availability document.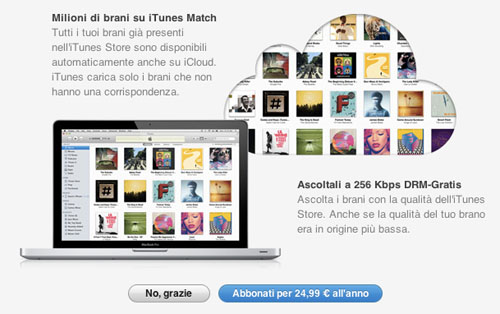 iTunes Match was first launched in the US in November 2011, followed by further rollouts in December and January. The service is now officially available in 37 countries around the globe including Australia, Brazil, the UK and others. Although Japan was rumored to be getting the service in February, Apple has yet to launch it there.
iTunes Match allows users to stream music they already own from iCloud, even if the songs were not originally purchased using iTunes. Apple's service scans subscriber's music playlists and matches available songs. When songs are not found in Apple's collection, they are uploaded to iCloud. Subscribers in the US will pay $24.99 per year for the service, while Italian users are being charged €24.99 (now equivalent to over $33 bucks).
For the annual fee, iTunes Match subscribers can listen to a maximum of 25,000 matched tracks using iCloud. The service will play all songs at high quality even if the digital copy you own is of lesser quality. Users also get access to iTunes in the Cloud, which makes it possible to re-download music purchased using an iTunes account an unlimited number of times to multiple devices. Apple continues to negotiate deals with content providers to bring iTunes Match to more iOS devices in more countries.