Submitted by Frank Macey on
Apple is working on powering its massive data centers from 100% renewable energy sources. A 20-megawatt solar photovoltaic electric generating facility has just been approved for the Maiden, NC facility. 60 percent of the facility's electricity consumption will be generated on site by solar and fuel cells, with the remaining 40 percent coming from external renewable energy providers.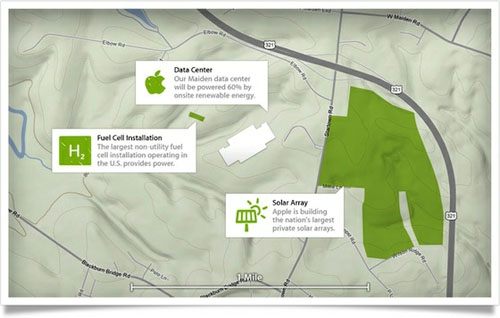 A new data center in Prineville, OR will come online with 100 percent renewable energy from the start. Apple also plans to renovate its Newark, CA data center starting in 2013, and will move that location to clean energy as well. The announcements come on the heels of several Greenpeace actions to bring attention to data center power consumption.
Apple isn't completely new to the renewable energy concept. The company has purchased 100 percent renewable energy for several facilities around the globe, including Austin, TX, Sacramento, CA, Munich, Germany and Cork, Ireland operations centers. Apple's Cupertino, CA headquarters is currently powered by 50 percent renewables. Greenpeace has been pushing other data center giants including Microsoft and Amazon to move away from coal-based electricity generation.
The Maiden, NC data center will be powered not only by the largest non-utility fuel cell in the US, but also the largest private solar array in the country. Rest assured next time you upload your data to iCloud that the process will soon cause less pollution. More information about Apple's data center renewable energy push can be found at Apple and the Environment.