The Pandora iOS app makes it convenient to stream radio stations tailored to individual tastes or different genres of music. While Pandora is normally free, Pandora users can subscribe to Pandora One for a monthly fee. So what is the difference between Pandora vs. Pandora One?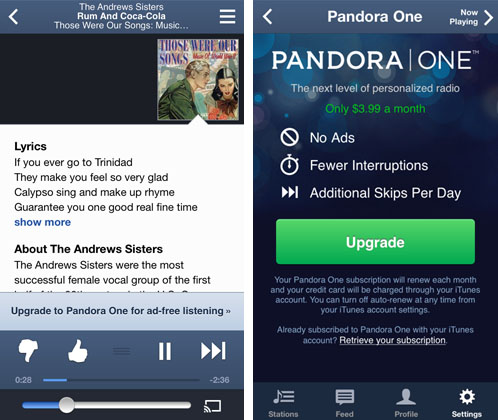 Pandora One removes all external advertising and provides more skips per day over free Pandora. All users are still limited to 6 skips per hour on an individual station.
Pandora One subscribers get higher quality 192 kbps streaming audio, and access to the Pandora One Desktop App. Regular Pandora users are limited to playing music in a browser window.
Finally, Pandora One provides custom skins to customize the Pandora tuner on the web.
Click here to see how much a Pandora One subscription costs, and how to upgrade to Pandora One.