Submitted by Sammy Snyder on
Both the original Kingdom Rush and its sequel Kingdom Rush Frontiers have received free holiday updates from Ironhide Game Studio.
Kingdom Rush has been updated with a new mission, where players must help the elves defeat a new evil that has risen from the depths of the Rotten Forest. The update includes the new free stage The Fungal Forest, a new boss fight against Myconid and his Rothshrooms, a new hero named The Mighty Thor and new achievements and Easter eggs!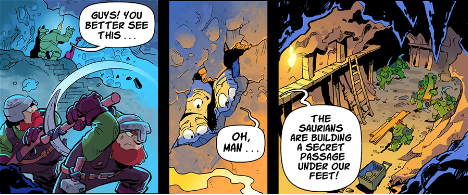 In Frontiers, the Saurians are back, and they're seeking revenge right before the holidays! The update brings the new free level The Darklight Depths, a new boss fight with King Xyzzy and his Saurian Deathcoils, a new FREE hero named Bruxa aka "the voodoo priest, master of black magic," and a new $4.99 hero Khaz the Minotaur Warlord.
The free levels are now available as OTA updates on your iOS device.
Ironhide is also holding a special holiday hero sale. You can check out the new prices on the Hero Room in the game.
Both Kingdom Rush and Kingdom Rush Frontiers are available for all iOS devices running iOS 4.3 or later. The standard versions are $0.99 and the HD versions for the iPad are $2.99.