At CES 2014 the global leader in thermal imaging technology, FLIR Systems Inc., unveiled the first personal thermal imaging device in the form of an iPhone case called the FLIR ONE. The FLIR ONE case is specifically designed for the iPhone 5 and 5s, and is the first device of its kind aimed at the consumer market.
The case will allow users to see the infrared spectrum, which has wavelengths longer than those of the visible spectrum. This will allow consumers to see heat signatures of people, animals and anything else that gives off heat from up to 100 feet away. The technology was originally developed for military night vision applications but has spread to other areas in recent years. Thermal imagery is now
commonly used by law enforcement, search and rescue personnel and surveillance equipment. The FLIR ONE will now allow consumers to apply the technology to everyday tasks. FLIR president and CEO Andy Teich said that "for decades, [FLIR has] seen the possibilities of thermal imaging redefining industries that require critical awareness and heightened perception... With FLIR ONE, we're excited to extend this technology to everyday users to help them with home improvement, wildlife observation, safety, security, and to discover new ways to use thermal imaging." Some applications that FLIR envisions consumers using include:
Home Improvement - Contractors and homeowners alike will be able to see where insulation is needed to maximize energy efficiency. The FLIR ONE could also be used to locate wall studs and ceiling joists.
Outdoor Recreation - The FLIR ONE can be used by bird watchers, hunters, campers and any other outdoor enthusiasts for any number of applications, from tracking animals to navigating at night.
Security and Safety - The device can be used to identify intruders or to navigate during a power outage.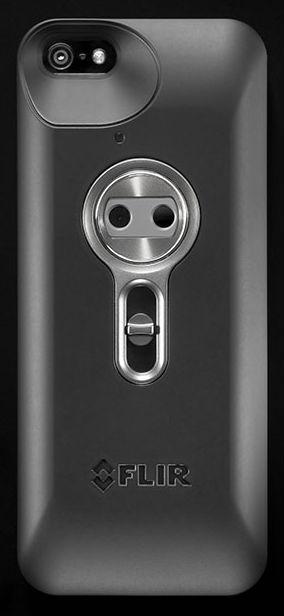 The FLIR ONE case is a protective case that also houses its own battery, which will power the thermal imaging system for up to two hours of continual use, or can be configured to extend the phone's battery life by up to 50%. FLIR expects the case to be available to the public sometime this Spring for around $350. It will be available in grey, black or gold.