Submitted by Anders Batten on
Instead of our normal App of the Week, I would like to highlight the jailbreak tweak Controllers for All. This is one of the most innovative iOS 7 tweaks released to Cydia since evasi0n7 was released. It is also in the running to be one of the best jailbreak tools of the year.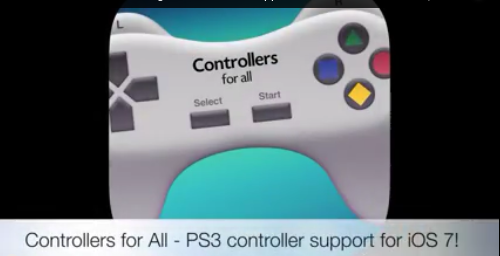 Currently the cheapest iOS 7 controller on the market is the SteelSeries Stratus Wireless for $79.99. Most of the other MFi (Made for iOS) controllers on the market, like the Logitech PowerShell, are retailing for around $100. That's a lot of money for an accessory to play a $3 game. This is why Controllers for All is one of the most useful tweaks out there. It allows anyone with a jailbroken device to add iOS 7 support to an old PlayStation 3 controller.
The tweak only costs $1.99 and you can nab a brand new Dualshock 3, or a used one, and that's only if you don't already have one laying around. To top it off, Controllers for All creator, Ori Kadosh, promises the tweak will eventually support more console controllers in the future.
It is also easy to pair your PS3 controller with your iOS device. You will need to download SixPair and follow the instructions for Windows, OS X or Linux. The steps are simple, you basically just need to connect your Dualshock and iOS device to a computer and hit a button.
Tweaks like
Controllers for All
make jailbreaking worth it. Now you don't have to shell out $100 to play your favorite iOS games with a wireless controller.