Since it first debuted at the Apple Worldwide Developers Conference last June, iBeacon technology has been spreading rapidly. iBeacon is described by Apple as "a new class of low-powered, low-cost transmitters that can notify nearby iOS 7 devices of their presence," which means that iPhone and iPad users will be able to receive information about products and deals while they are browsing in stores and, with Apple's big plans for a mobile payment system, eventually make payments via the iBeacons. So far, several major retailers have taken interest in the technology, including Macy's, Safeway, Giant Eagle, American Eagle and, of course, Apple's own retail stores. Now, both Major League Baseball and the National Football League are interested.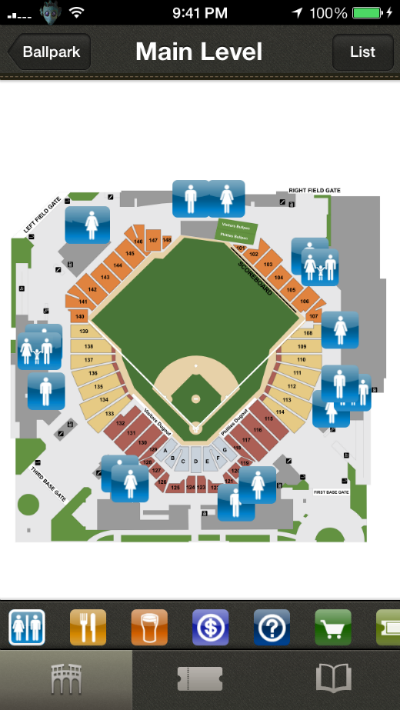 The MLB plans to have 100 iBeacons installed by opening day (Monday, March 31st) across 20 stadiums, and many more by the end of the season. Some of the first stadiums to receive the iBeacons include Boston's Fenway Park, Dodger Stadium, AT&T Park in San Francisco, Milwaukee's Miller Park and the Padre's Petco Park in San Diego. The iBeacon technology will be able to be tapped via the MLB's
AtTheBallpark app. What fans will be able to do with it will vary by stadium, but there will likely be stadium information available (directions to seats, concessions, restrooms, etc.), loyalty and rewards programs, ticketing, and maybe information and stats about the game being played. Eventually you'll be able to purchase concessions and have them delivered to your seat, no doubt.
According to MacRumors the MLB's main goal is not making money - it is interested in improving the fan experience and making it as "efficient as possible." Which means more money in the long run. If you've been following iBeacon you know that it is a two way street. As you walk around a store and receive coupons and product information from the retailer, the retailer is most assuredly collecting information about you... How long did you stop and look at what product, what price ranges were you looking at, and so on. This information will eventually lead to personalized marketing toward you, which is not necessarily a bad thing. So if you keep looking up where the closest hot dog stand is in Citizen's Bank Park, maybe you will notice hot dog guys looking in your direction when you go to see the Phillies-Mets at City Field.
The NFL is also experimenting with iBeacon at this weekend's Super Bowl XVLIII. iBeacons were installed around Times Square and MetLife Stadium, mostly to help people with directions to nearby attractions and to their gates/seats.