In a recent note to investors, South Korean financial firm, KDB Daewoo Securities, revealed quite a few details about the upcoming iPhone 6. There has been much speculation about the new iPhone having a bigger display, and this report agrees that it will indeed have a larger display, in addition to several other key upgrades.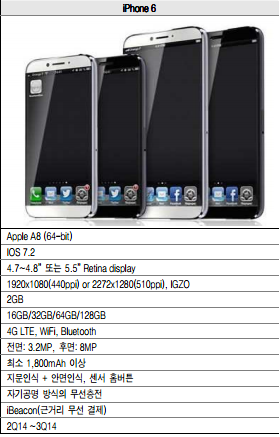 According to the KDB report, the iPhone 6 will be available in two sizes - a 4.7 - 4.8 inch display for the "normal" size (compared to the 4 inch display of the iPhone 5s), and a 5.5 inch phablet size. The Retina displays will supposedly be built around IGZO technology (indium gallium zinc oxide) and will support full HD with
resolutions of 1920 X 1080 pixels and 2272 X 1280 pixels respectively. The new phone will have twice the RAM of the iPhone 5s, with 2GB. The normal storage capacities of 16GB, 32GB and 64GB will be available, plus a 128GB model. There will be an 8 megapixel rear camera and a 3.2 megapixel forward facing camera. The new iPhone will also run on a 64-bit A8 processor.
The rumor mill is officially in full swing for the iPhone 6, and this report makes some dubious claims so, as always, caveat emptor. For instance, the report shows iOS 7.2 as the operating system for the 2014 iPhone, but everyone expects Apple to show off iOS 8 at this year's WWDC, and there have been many credible reports that suggest iOS 8 will be on the next incarnation of the iPhone. The report also lists iBeacon as a feature, which seems odd, since iBeacons are installed at retail locations and devices connect to them via Bluetooth Low Energy (aka Bluetooth Smart), so you might expect that to be listed, not "iBeacon." The phablet size is also questionable. Although a bigger display is all but certain at this point, a jump to 5.5 inches seems a little much. We'll find out for ourselves, probably in the Fall.