Submitted by Chad Shmukler on
Efiko Software has just announced version 2.0 of their very popular iPhone ringtone creation and installation software, called iPhoneRingToneMaker. Though there are several methods and software packages iPhone owners can use to get free ringtones on their Apple iPhones, iPhoneRingToneMaker (along with iToner) is on a short list of these solutions which will allow users to make a ringtone from existing music on their computers, are easy to use, and are well supported by their creators.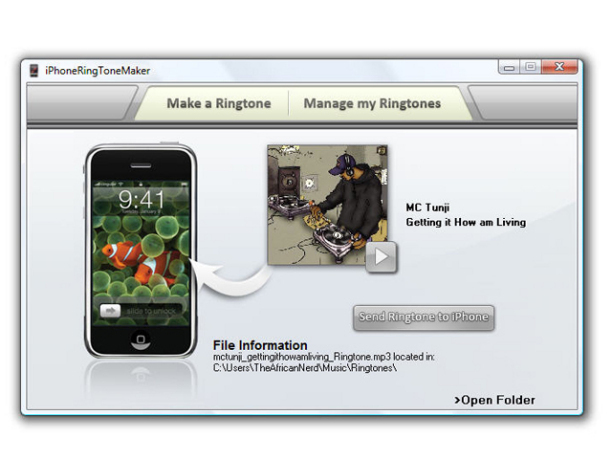 Of course, all of this easy-to-use goodness comes at a price, albeit an extremely modest one. Purchasing ringtones through iTunes costs basically $0.99, should you buy
yourself just over a dozen of them, you've already spent the cost of iPhoneRingToneMaker ($14.99). Considering that iPhoneRingToneMaker allows you to create and transfer an unlimited number of ringtones to your iPhone, it doesn't take a mathematician to figure out the the software is a bargain.
So what's new in version iPhoneRingToneMaker 2.0? Well, a few preat handy and helpful features:
ringtone shufling
volume boosting
Ringtone shuffling let's you randomly switch up your ringtones on your iPhone. According to Efiko, this works by the software shuffling your ringtones everytime you sync your iPhone with your PC (optional). What sounds more useful is the volume boosting feature. Often, ringtones made from MP3s simply don't sound loud enough. The new volume boosting feature uses digital amplification to make your created ringtones play louder on the iPhone.

iPhoneRingToneMaker is a best seller in the iPhoneFAQ Store and got a 4.75 (out of 5) rating from the folks at ThinkMac.net. The only bad thing is that iPhoneRingToneMaker is only for Windows PCs. No Mac support yet. Mac users should look into purchasing iToner.

If you already purchased iPhoneRingToneMaker, version 2.0 is a free upgrade for all existing owners.