This week, at the Mobile World Congress in Barcelona, Spain, Imagination Technologies unveiled its new PowerVR GX6650, a 192-core GPU (graphics processing unit), which the company considers its "shining star" of PowerVR graphics processors. Since Imagination supplies the graphics processors for Apple's custom A-series chips, this new GPU could very well be included in the next generation iPhone (iPhone 6) and iPad.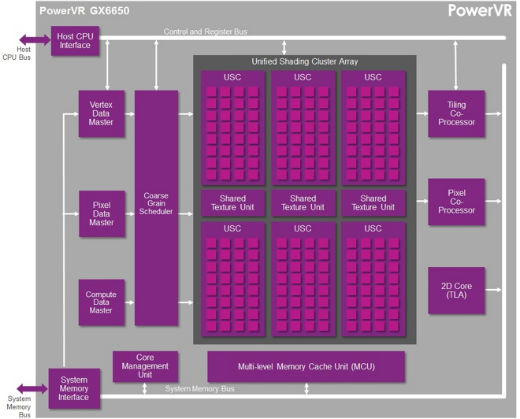 The PowerVR GX6650 GPU boasts six unified shading clusters (architecture devoted to the production of appropriate levels of light and color within an image) and 192 cores, which allow it to process 12 pixels per clock cycle. According to Imagination,
this is three times as powerful as any of its competitors' GPUs, including Nvidia's new Tegra K1 platform. Despite the additional power, Imagination says that power consumption has been kept to a minimum.
According to Apple Insider, Imagination's new GPU is "aimed at processors in high-end, high-resolution tablets or 4K smart TVs." The company's PowerVR chips have powered every Apple mobile device since the iPhone 3GS, with the iPhone 5s and iPad Air using the PowerVR Series 6 GPUs. Considering that Apple extended its multi-year license agreement with Imagination Technolgies earlier this month, it seems likely that we will see this GPU in future iPhones and iPads, if not the iPhone 6.