Submitted by Sammy Snyder on
Disney's new movie streaming app for iOS devices allows users to watch Disney, Pixar and Marvel movies without a Wi-Fi or cellular connection.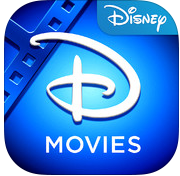 Disney Anywhere subscribers can access their already purchased movies, buy new titles or redeem their Disney digital copies without leaving the app. All you need to do is signup, and connect your Disney account to your already existing iTunes account. You will then be able to download your movies to any iOS device for offline viewing, and purchase films directly from Disney's growing collection of digital videos.
The app is free to download from the App Store, and it requires iOS 7 or later to work. New members who signup for a free account now will receive a free digital copy of The Incredibles when they sync their iTunes account. You can also earn "Disney Movie Reward" points every time you make a digital transaction via the app.
Disney Anywhere Features:
• Watch your Disney, Pixar, and Marvel movies everywhere you go!
• Build your digital movie collection with a library of hundreds of videos to choose from… more coming soon!
• Get new movies directly through the app or redeem your Disney digital copies.
• Access exclusive Disney content for free – original programming, never-before-seen videos and much more…
• Watch movies while connected or download movies to your device for offline viewing.
• Earn Disney Movie Rewards points for every digital transaction.
The Disney Anywhere app is universal, meaning it will work with all iOS devices that meet the requirements.