Submitted by Chad Shmukler on
Newly available via Installer/AppTapp is iSMS, a native text messaging client replacement for the iPhone. iSMS - also called weiSMS, is partially based on WeSMS, a Chinese SMS application, and provides a list of features/enhancemens not found in the standard iPhone SMS application. These lacking features have been high on iPhone owners' lists of gripes with the iPhone.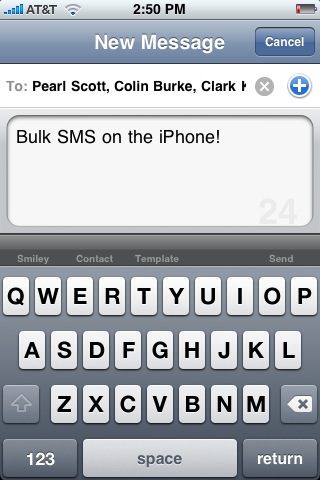 Though very much a beta, officially only a "preview release", iSMS provides many functions not available when sending text messages on the iPhone through the included interface. The two most prominent of these added features are the ability to send a text message to multiple recipients (or bulk SMS) and the ability to forward received text messages.
The list of major SMS features not normally available on the iPhone which iSMS adds includes the following:
send SMS to multiple recipients
forward received SMS messages
ability to send contact info via SMS
delete messages one at a time
i18n support
smilies/emoticons support
stock message/message template support
iSMS also supports 10 languages, allows for easy call back functionality to text message senders, and
will even show an envelope icon in the status bar when unread text messages are waiting.
The only quickly discernable drawback of using iSMS for your iPhone text messaging is the loss of threaded message viewing. Text messages are instead shown as single messages which reside in separate Inbox and Sent folders. Even if you're bound to the threaded message view found in the standard iPhone SMS application, there's no harm in keeping iSMS installed for those times when you want to send a bulk SMS on your iPhone or forward a text message you received.
iSMS can, as mentioned above, be easily installed via the Installer application on jailbroken iPhones, or can be downloaded via the weiSMS page on Google Code and installed manually via the provided instructions.