Submitted by Thomas Estilow on
During the keynote address at WWDC 2009 the head of Apple's iPhone software development, Scott Forstall, revealed major new features coming to iPhone OS 3.0.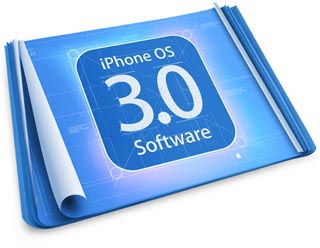 The new iPhone OS will be released worldwide on June 17th. The cost to upgrade firmware will be $9.95 for iPod Touch and free for iPhone.
Over 100 new features are in the works... here are the ones mentioned in the presentation:
Cut copy and paste
Landscape
MMS (later this summer on AT&T)
Spotlight search
Shake-to-undo
iTunes video rental and purchase on 3G
Support for iTunes U
Parental content restrictions
Tethering via usb or bluetooth with no additional software (not on AT&T)
Javascript 3x faster on safari
HTTP streaming video and audio
Autofill
HTML 5 support
Support for over 30 languages
Find my iPhone (only for MobileMe users)
1000 new APIs in the SDK
In-app purchasing
Peer to peer support
Support for 3rd party hardware accessories via bluetooth or dock connector
Google maps in any application
Push notification
Surprising and disappointing that
AT&T will not support iPhone tethering
, and isn't ready to support MMS at launch on June 17th.