Submitted by Anders Batten on
BlackBerry Limited (NASDAQ: BBRY; TSX: BB) today announced BBM version 2.1 will be rolling out to Android, BlackBerry and iOS devices. As promised, the new update will bring "stickers," the ability to share images in multi-person chats, and the ability to send higher quality photos, videos and presentations.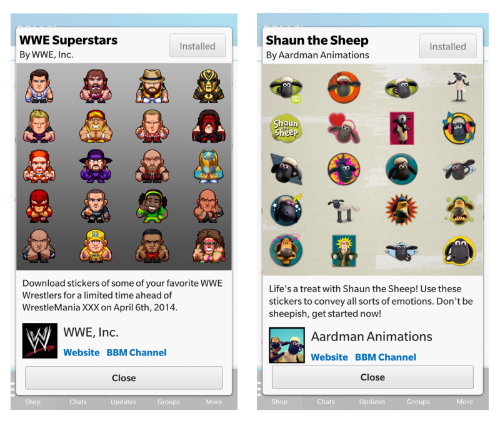 "Stickers" are just larger emoticons that users can purchase from the BBM Shop to enhance their chats. BlackBerry has also teamed up with the WWE to give away a free WrestleMania 30 sticker pack.
"Stickers are another great example of how we're making the BBM experience more engaging and fun for our customers," said David Proulx, Senior Director, BBM at BlackBerry. "Stickers let you personalize your chats and strike the right chord with people around the world who rely on stickers in chats when they connect with colleagues, family, friends, peers and partners."
BBM users will also now be able to send photos as a thumbnail in multi-person chats, and transfer files up to 16MB in single-person chats.
BBM version 2.1 will begin rolling out to BBM users sometime today. You can download BBM for free from the
Apple App Store
. It requires iOS 6.0 or later and it is compatible with the iPhone, iPad, and iPod touch.
Update: Version 2.1.0.57 of BBM is now available. Here's the changelog:
• Add more fun to your BBM chats with the introduction of stickers available in the new BBM Shop
• Increased file transfer size (16MB) lets you share higher quality photos, bigger files and longer videos
• Picture sharing in multi-person chats makes it easy to send a pic to a group of people so you can all talk about it together
• Other bug fixes and performance improvements