Submitted by Bob Bhatnagar on
Some of the best jailbreak tweaks only do one thing. Simplicity is the word to describe NoSTUArrow, which removes the off-center Slide to Unlock arrow from the iOS 7 lock screen. There are other ways to achieve this effect, however NoSTUArrow makes it easy.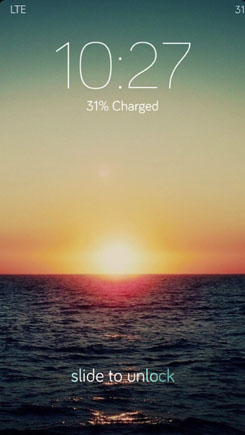 Eliminating the arrow from the left side of the Slide to Unlock text happens immediately after NoSTUArrow is installed. The tweak can be found on Cydia for free, and has no options or settings to configure. Once the arrow, which looks like a mathematical "greater-than" sign, is removed the iOS 7 lock screen looks even cleaner.
Whether or not NoSTUArrow meshes well with individual lock screen wallpaper depends on user preferences. What's nice about the tweak is that it contains no dependency on other software, such as Winterboard. To bring back the Slide to Unlock arrow, simply uninstall NoSTUArrow from the Cydia jailbreak app store.
NoSTUArrow is available from Cydia on the BigBoss repo for free. Check here for instructions on how to jailbreak iOS 7.x with evasi0n 7. You can also find out how to purchase and install Cydia tweaks with this guide.