Submitted by Bob Bhatnagar on
There are a variety of cosmetic tweaks now available to simulate the look and feel of changes coming to iOS 8. When it comes to the Notification Center, the new firmware will bring a redesign along with many new functions including widgets. The tweak Notific8 brings the look and feel of the iOS 8 Notification Center to jailbroken devices on iOS 7.x.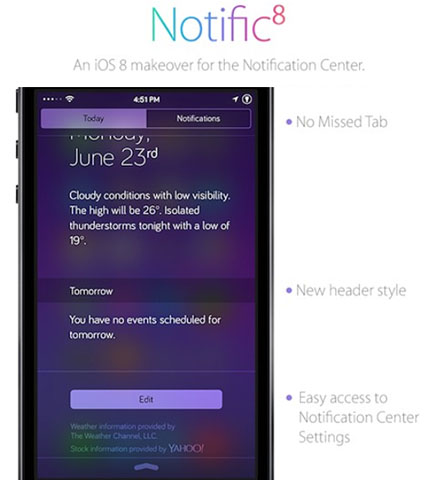 While widgets and other new functions are not part of the tweak, Notific8 does a decent job of simulating the iOS 8 style for free. Under Settings -> Notific8 there's a toggle to switch the tweak on or off. Other than that, there are no options to configure, and the tweak will not change the native iOS 7.x Notification Center settings.
Notific8 does add an iOS 8 style Edit button, however this only acts as simple shortcut to the stock Notification Center settings. The real thing will allow widgets to be controlled when iOS 8 arrives in the fall. The tweak also removes the missed notifications tab, changes the All tab to Notifications, and provides other cosmetic and background changes to match iOS 8.
Notific8 is available on Cydia from the BigBoss repository for free. Jailbreaking iOS 7.1.x is now possible with Pangu. Check here for instructions on how to jailbreak iOS 7.0.x with evasi0n 7. You can also find out how to purchase and install Cydia tweaks with this guide.