Submitted by Bob Bhatnagar on
Faking the location of an iOS device is not a new idea. Getting around the location-checking features of various iPhone apps was previously made possible by jailbreak tweaks such as Location Spoofer. Now LocationFaker brings this functionality to jailbroken devices running iOS 7.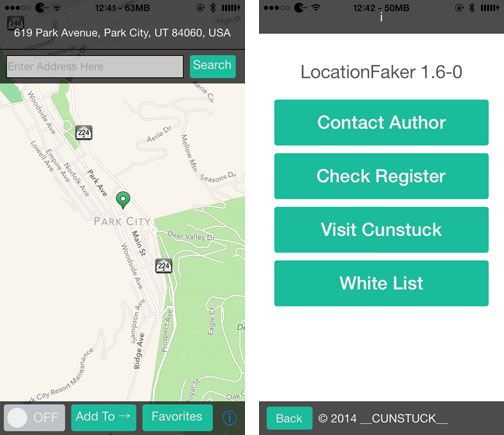 Anything from spoofing your friends on Facebook or circumventing regional content restrictions can be achieved with LocationFaker. Once installed and configured, the app will trick any iOS app into using the fake location instead of data from the actual GPS. For example, pulling up Maps while LocationFaker is enabled will show the fake location.
To choose a fake location, tap the LocationFaker icon on the home screen, enter an address, and tap Search. The Add To button will add this location to a list of favorite spoof locations. Once the desired fake location has been selected, tap the grey OFF button in the lower left corner to turn LocationFaker ON. While in operation, all apps by default will be spoofed into using the fake location.
Apps can also be told to always use the real location via a built-in white list. To add individual apps to the white list, tap the circular "i" button in the lower right corner. From there, tapping the White List button will reveal installed apps, which can be individually selected. Blue check marks indicate that an app will always use the true location.
LocationFaker is available from Cydia on the BigBoss repository for $2.99. Check here for
instructions on how to jailbreak iOS 7.x with evasi0n 7
. You can also find out
how to purchase and install Cydia tweaks with this guide
.