Submitted by Frank Macey on
Flipping an image horizontally or vertically with the stock iOS Photos app is not possible. Pictures can be rotated with the Edit function, however getting a mirror image of the photo requires third party software. Fortunately, there are many free options on the App Store. One versatile example is Adobe Photoshop Express.
Click here for instructions on how to rotate (spin) a photo around.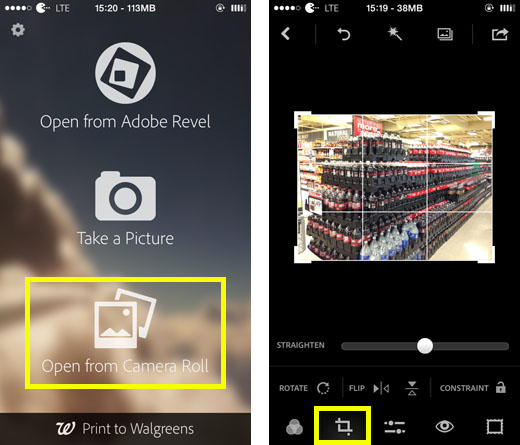 To flip a picture you have taken vertically or horizontally, install and open Photoshop Express. Give the app permission to access the Camera Roll, then tap Open from Camera Roll to import the image you wish to modify. The image will load.
Selecting the cropped photo icon on the bottom (second from left) brings up several options and a grid overlay on top of the image. From here, Rotate, Flip and Constraint options appear. Simply tap the vertical or horizontal Flip arrows to reverse the photo along the chosen axis.
Once the image is properly flipped, there are two ways to exit and save. Either tap the back arrow and a pop-up will ask to save changes. Saving will add the flipped image to the end of the Camera Roll. Alternatively, selecting the share button in the upper right corner brings up several options.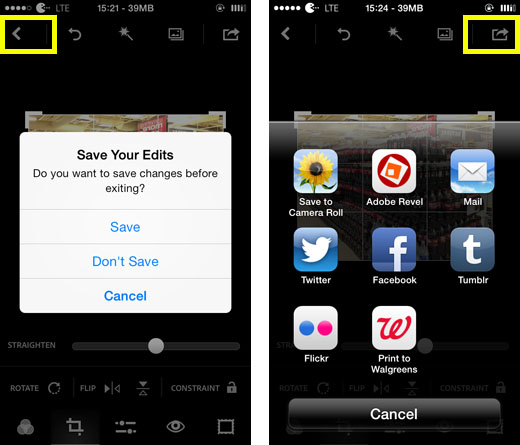 In addition to saving to the Camera Roll, the flipped image can be emailed or shared using Twitter, Tumblr, Facebook or Flickr. Of course, flipping images horizontally or vertically on the iPhone is just the tip of the iceberg. Photoshop Express includes many photo editing tools that can supplement the built-in functionality of the stock Photos app.
Future versions of Photos will likely add mirroring options to the editing pages, but for now iPhone users must go with a third-party app to flip pictures.